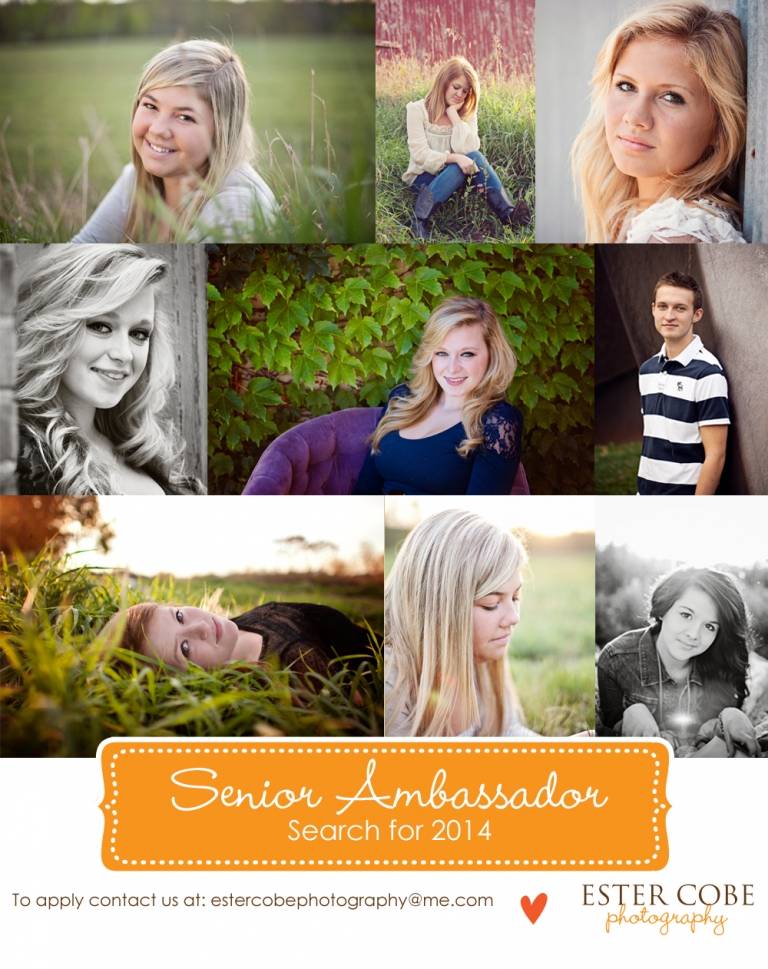 Senior Ambassador skinny
Being a senior rep or ambassador means you are a spokesperson or model for Ester Cobe Photography senior sessions. This exciting position is being offered to one local senior per school. The selected individual will receive a free senior portrait session in exchange for being a great cheerleader for us.
Timeline
Once chosen each Senior Ambassador will be contacted and planning for your session will commence. We will talk locations and your style. Then together we will come up with a concept that is sure to reflect you. Of course, before you can become an official ambassador, we will need consent from your legal guardian. It's always helpful to have parents in the know. Most times – they are awesome cheerleaders too that can help promote. You will look awesome. Parents will be happy and will spread the word!
The Reward
So, what do you get?
Our time and talent to plan and shoot your session followed by a cd with facebook ready shots and timeline heading from your session. It is our hope that you would post your favorites for your friends to see. These photos will all have our name and website logo so that your friends will know how to find us.
Know people who don't facebook, but still want to spread the word?
You will receive Senior Ambassador cards with your photos and our contact information. This way you can get the word out in two different ways… online and at school/practice.
Undoubtably you will want prints.
Because you are our ambassador you will receive two high resolution photos ready to print along with our print release. You will receive an additional high resolution photo for each friend who books with us.
What do your friends have to gain?
They will get fifty dollars off their session when they present your Senior Ambassador card at time of booking.
Your Job:
An ambassador is a person who acts as a representative or promoter of Ester Cobe Photography. Your Job Head of promotion in your school for us!  Basically, you have pinky swear to promote us at your school and spread the great news of the awesomeness of Ester Cobe Photography. We are going to make sure your photos are awesome, in return you will need to do a little work too! We will upload your photos onto Facebook or all of your friends and family to to see. When people comment on those images tell them about us! You will also have awesome rep cards to hand out to ther seniors or juniors to promote Ester Cobe Photography.
The bottom line:
Social butterflies apply here!
The more you promote the more you get.
Wanna go for it? Think you have what it takes?
Contact us, and you will be one step closer!
We look forward to working with you!
So what are you waiting for?!! Apply to be a 2014 senior rep today!
Applications are due by March 1st!
Email the answers to the following questions to estercobephotography@me.com so we can know all about YOU! ~ Super excited!
Name
Email
Address
Parents' names and email address
High school you attend & year of graduation
What are your favorite classes?
Where are you planning on applying to college?
What major do you hope to have in college?
Do you use facebook, twitter, myspace, or have a personal blog? If yes, then which one(s) do you use and how often do you use them?
Why do you want to be a Ester Cobe Photography Ambassador and how would you help spread the word about Ester Cobe Photography?
What are your hobbies – school activities – or sports?
Tell me any additional info about yourself you would like to share.
Describe why you feel you would be a good model and representative for Ester Cobe Photography and how you would work to influence other students/friends to use us for their senior photographer.
How did you hear about us?