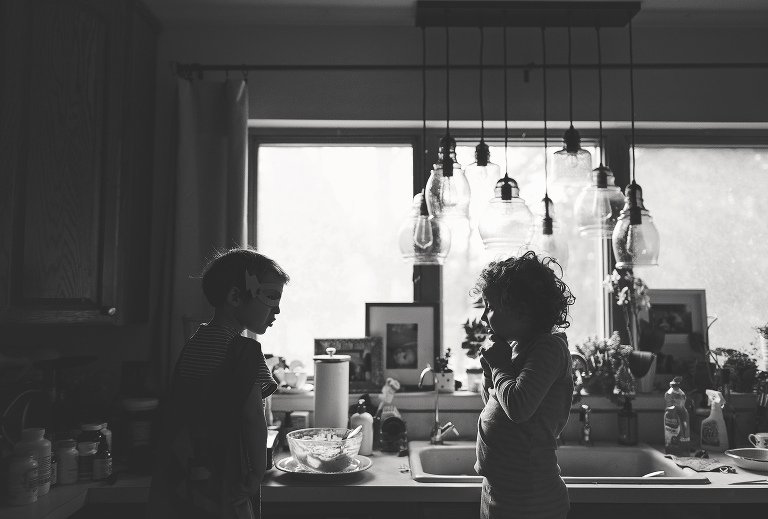 Home
I spend a great deal of time really thinking about each week's topic for #EsterCobe52. The word HOME kept echoing in my sub-conscience. Although I feel this topic is super large, it is also one that fits all. Let's dive into this topic of "Home" and I hope this post will give you a bit more confidence and inspiration when setting out to photograph your space.
Setting
Think of your favorite places in your home. One of my favorite places is the kitchen during morning hours. The photo above was taken on a pancake and waffle morning. My two boys, clad in pajamas were standing on stools to help make the batter. I grabbed my camera and loved the result. The countertops might not have been tidy, but this moment mattered.
Capturing Life
My kiddos have favorite places to play. We have a daily routine too. When capturing life you should think of the routines and what places get the most attention in your home. Have that camera ready. YES, even a smart phone is perfect! The best camera is the one you have with you! Observe life and be ready to photograph moments as they happen. Most of my favorite images have been documented because I was engaged and watchful.
Be Intentional
When you are photographing breakfast make sure the photograph tells that story. A box of cereal, donuts, coffee in hand all say, "hello, its breakfast time"! Taking a photograph of bath time would include a bathtub, bath toys and water. Carefully compose the image (composition will be next week) so that the image is pleasing to your eye. Wait. Watch and observe with your camera ready.
Know Your Camera & Elements of a Great Photograph
All humans are pretty tricky to photograph. It really does take the right moves and knowledge of your camera or smart phone to get those authentic moments documented before they pass. Look back on the other #EsterCobe52 posts and prep yourself for best lighting, framing and composition (<- links there) Watch for a day and take note of what moments you love and want to remember. Those are the moments you should focus on documenting. When you are ready to photograph the scene, walk around and take photographs until you have one you love. Again, be intentional and think about what story your image will tell.
This image taken back in 2013 of my sweet boy sleeping is one I will always cherish.