Documenting Christmas morning is one of my favorite parts of the year. I typically have stayed up past 1am on Christmas Eve, because my mind can not stop trying to make things just right but everything is ready to go. My phone charged and ready next to the bed, and my large camera by the tree. I make sure everything is charged and ready to go with my memory cards empty and extras on standby.
I always stand with my body perpendicular or slightly to a large window. (yeah, before the sun is up I use off camera flash with one camera and one without but that is pretty techie and not typical. I may be a photographer). This throws as much light into my kiddos eyes as possible. When its still dark I have at least HALF of their face lit up by the tree or other light in the room. Yup, I ask them to face the direction that is best for the light. <3 The BEST photographs truly happen after the sun is up. Natural sunlight is really the key to my favorite images. Saving ONE present for daylight is an option too.
Favorite shots include present opening, photographs with the tree framing the kids and getting behind the tree a bit to capture the kids as they first see the tree in the morning. That last one is tricky and involves you getting into the room first… good luck.
My list of tips for the BEST Christmas Morning Photographs
Prep your cameras the night before. (batteries, memory cards)
Your phone will take amazing photographs too. Turn on your grid feature to help you with composition.
Check out the lighting BEFORE Christmas morning. Do some tree photos the morning/day before to practice finding the best spots to stand for photos.
The night before make sure you are leaving the room just as you want it photographed and take a photograph before bed.
DSLR users – auto white balance should help with odd colored indoor lighting, but photograph something that is true white to make sure the color is right. I use custom white balance and change it as the light changes in my house, but this is something I have lots of practice doing and isn't necessary.
ISO in my house tends to be perfect at 3200 near the tree. This allows me to keep my shutter speed at my desired 200-250 to make sure I catch all of the movement. (of course the iso changes as the sunrises)
I have a tripod set up with my remote shutter ready to make sure I am in the photographs. When I can't locate the tiny device I set my camera on timer and run back to my spot to make sure I am in the photographs.
Make sure you document the scene. Step back and get a big room shot.
Document the little things too. Get in close for detail shots.
Take the photographs. Perfection is what you make it. Document the moments and get ready for a giant photo collection <3
I can't wait to see your #EsterCobe52 images on social media <3
Happy Holidays <3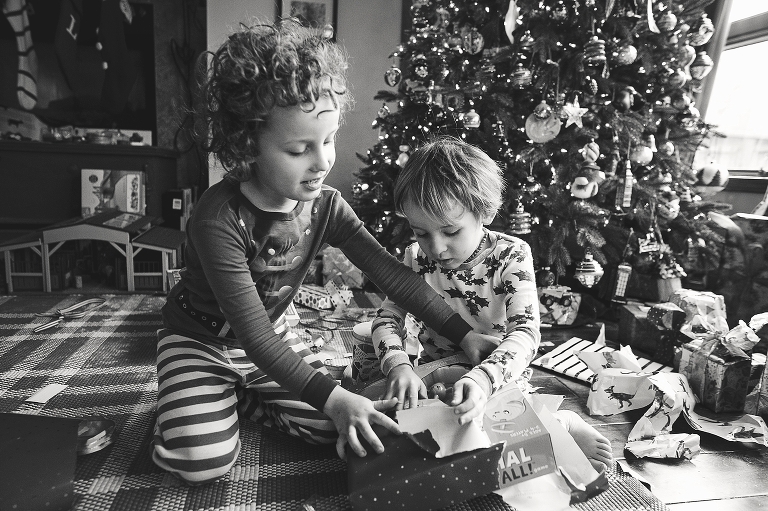 For more tips check out my past #EsterCobe52 posts